So I've always liked fairies. Somehow I never did enough fairy costumes cause groups happened. This tutorials is very old (about 10 years I think), but it still gives you and idea – it's for example usable for Tinkerbell wings, which I'm going to do soon.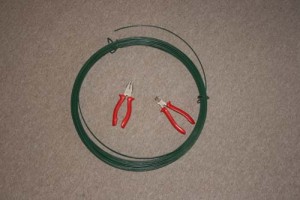 My material is wire for gardening and pliers. The wire is covered with a kind of rubber that I found helpful for gluing on, instead of raw metal. Plus, in germany it's very hard to get wire in a decent thickness.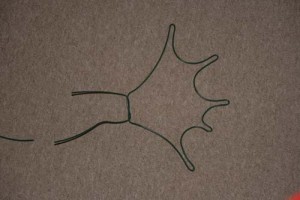 At first I made a frame for one wing. Yes, yes, the shape is ugly…but it still shows. Try to make your frame as flat as possible, which can be a pain especially if you work with very springy wires (like steal wire). But it simplyfies the process if you took your time to flatten it down.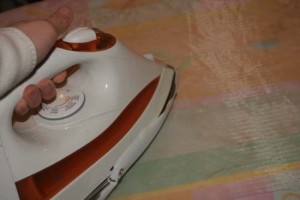 In the meantime, when you have time, iron your fabric. It's important that it's as creaseless as possible. I used an organza fabric here, which a very sheer fabric. However, other fabrics will do too! Such Chiffon, silk, or very light cotton fabrics. I personally like the little stiffness that organza brings, that chiffon for example doesn't. It helps in the upcoming steps.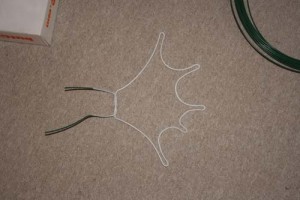 I painted my frame white. This was airbrushed, but basicly you can paint it however you prefer. Just be careful with wire like this, that is wrapped in a coat. It does respond badly to paint that is not acrylic based and will get sticky.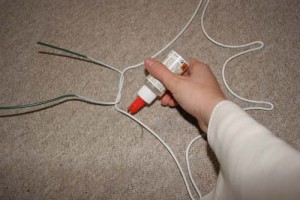 In the next step, I cover the wire with glue. Very small frames can be covered in one step, but most of the time you will have to repeat this step when the fabric is already placed on the wire (see below).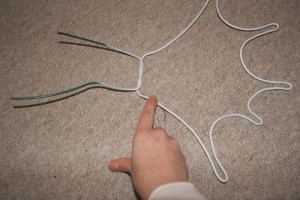 I gently stroke over the glue so that it's spread everywhere and isn't as liquid as it was. IMPORTANT: Do not do that if you use any kind of superglue! I'm just using normal childrens and crafting glue without solvent here. If you're using quick drying glue or superglue, do never use your bare hands on it!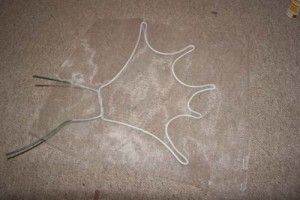 Then I gently place my fabric on the frame. Be sure it lies flat, and if the wing is too big, have someone help you with that step.
I now stroke over the wire again to make the fabric stick. Organza is pretty nice here, as the glue won't affect it's colour when it's dry (because it's already a shiny, somewhat articifial looking fabric). However, if you use Chiffon or silke, those parts may look darker. I suggest to just put glitter over them later.
This is the place where you propably have to to go step by step until everything is glued to the frame. Not I let it dry.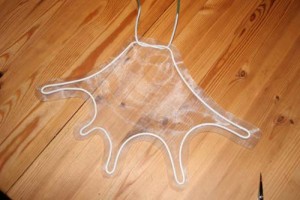 After the glue dried, I cut away the fabric around the frame, but not totally short: I need edges, just like seamallowance in sewing.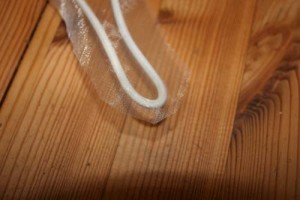 At the edges, I cut the fabric allowance (let's call it that way) shorter.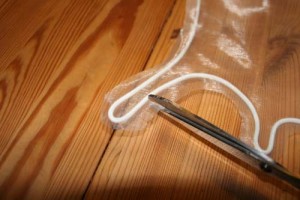 Then I do small cuts horizontaly to the frame. I leave a space inbetween of about a centimeter.
Now it's time to fold them. I put glue on the frame again, stroke over it again (like before), and then I fold the fabric allowance onto the other side of the frame.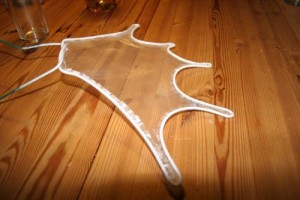 …Then it's all inwards.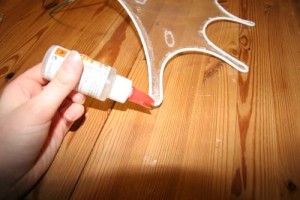 At the edges, I apply extra glue, cause these are sensitive spots on the wing. Let this dry again, best is overnight. You want the glue to be really dry.
Now I cut away the overlapping fabric. As close to the wire as I can.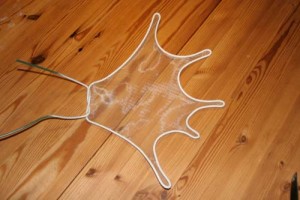 The basic wing is now finished. And here comes the actual fun part, the decorations! You can do that however you want, here's just what I did.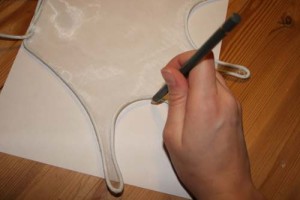 I traced the frame onto paper. Actually most people start out with a design and don't just go and shape their wire…..somehow.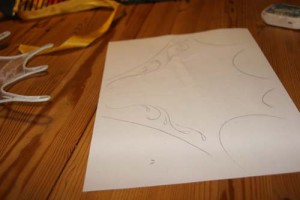 There I put some ornaments on.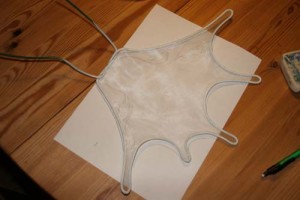 And replaced my wing. The organza is sheer enough for the ornaments to shine through.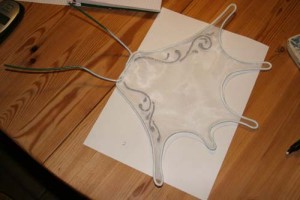 I used glitterglue to trace the ornaments to my glue.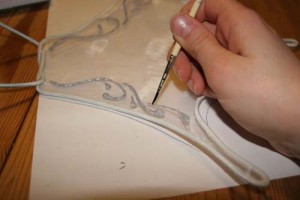 This can also be refined with a brush if neccesary.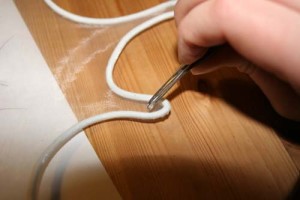 And some gemstones are also nice….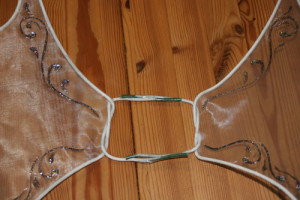 Now you will need the second wing. The are attached to each other in the middle. You don't have to use this way, actually a u-shaped connection is smarter, cause then you can just put it into a corset without straps. In this form straps have to be worn.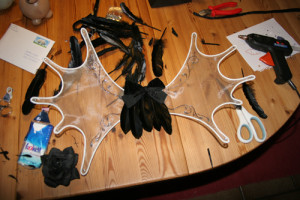 The connection is the decorated by random stuff (many people put flowers on it). I had some feathers lying around. Talk about feathers: this method is also valid as a base for feather wings, so that they won't get to heavy.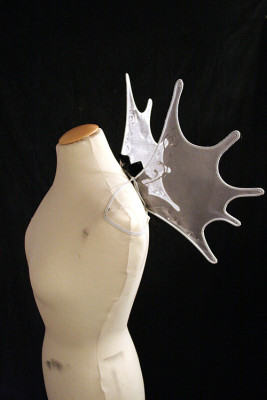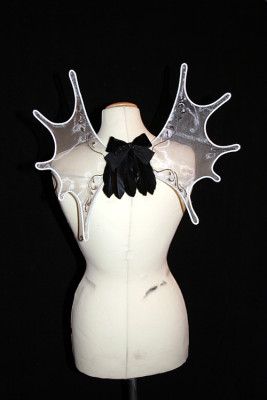 Finished wings!